Become Our Fan
Archives
December 9th, 2009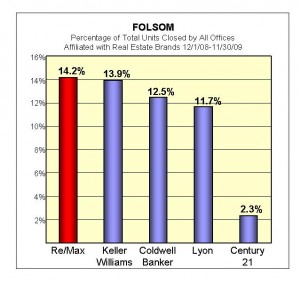 Re/Max has the highest percentage of closings in the area! You can't argue with facts, and the fact is Re/Max agents closed more sales than their competition in 2009!
As an agent, I believe I could successfully represent my clients regardless of which company I chose to affiliate myself with…my level of knowledge and expertise would remain consistent, and I would continue to find ways to best represent both Buyers and Sellers. However, as a Buyer and/or a Seller, I really do believe that it matters who your Real Estate agent affiliates themselves with…Re/Max has a global presence, and some of the best agents in the world! If you're selling a home on the west coast, the east coast, or somewhere in between, you can rest assured that your home is being marketed to potential buyers across the country, and across the globe via Re/Max's extensive web presence, and network of experienced agents. And, likewise, as a Buyer, you have access to a vast array of homes being sold across the world!
For those reasons, and many more, I am proud to affiliate myself with the Real Estate company with the highest percentage of closed sales in the area!!! Please don't hesitate to contact me if you're interested in adding your home to the list of homes that have SOLD!
Quick Search
Categories
Community Resources