Become Our Fan
Archives
Archive for May, 2010
May 29th, 2010
As summer vacations are quickly approaching, it's comforting to know that Folsom Police volunteers will keep an eye on your house while you are away. Trained Citizens Assisting Public Safety (CAPS) volunteers will check doors and windows and walk around your home and property to be sure everything is secure while you are away. They will maintain a written log and notify the Police Department if they see anything suspicious. Now you can stop worrying about your house and just enjoy your vacation!
Contact Rosie Kessell, the Police Volunteer Coordinator, to request this free service while you're away, (916) 351-3409 or [email protected]
May 25th, 2010
Each month, I receive a newsletter from Brian Buffini, a real estate coach, filled with information and advice on the current state of the real estate world. He recently sent me a list of common mistakes people make when buying a home. In an attempt to help you not make any of these mistakes and get the most out of your home buying experience, I am going to give you a glimpse into my real estate world. Enjoy! 
MISTAKE NO. 1: Choosing a real estate agent who is not committed to forming a strong business relationship with you.
HOW TO AVOID IT: Making a connection with the right real estate agent is crucial. Choose a professional who is dedicated to serving your needs – before, during and after the sale.
May 21st, 2010
I often begin my day by checking various Real Estate news sources so that I can be up to date on the very latest in real estate happenings. This morning, I came across an encouraging article by Jim Wasserman from the Sacramento Bee entitled Sacramento April Home Sales Prices Increase From Year Earlier. Because I could not say it better myself, I encourage you to read the article yourself, but, just in case, here are few of my favorite highlights. This is great news for home buyers and sellers in our area!
May 18th, 2010
May is National Bike Month and the perfect time to get out and ride with your family, co-workers and friends. You don't want to miss out on all the great trails in our area.  To get you started, this Thursday is National Bike to Work Day.
Work in Sacramento? Swing by the Capitol Bike Fest on the West steps of the State Capitol between 11am and 1pm for dozens of booths with everything you'd like to know about bicycling, staffed by cycling organizations and bike shops. You can enjoy music, ice cream and free bike safety checks on your lunch break. There will even be bike valet parking!
May 13th, 2010
Good news for the luxury home market! "Amenity-laden properties at the top of the market continue to command just as lofty prices" according to a Forbes article this week. 
May 11th, 2010
Every time I drive past new commercial construction or a For Lease sign, I always think, "I wonder what's going to be there?" As new developments seem to be popping up throughout Folsom, I decided I would look into what's on the horizon for Folsom businesses and found a really useful site offered by the City of Folsom's Economic Development Department. Every month, the Economic Development Department releases an updated list of all new businesses with proposals to come to Folsom as well as their current status. Check it out. I'm especially excited about the Sonic Drive-In and Whole Foods.
Be on the look out! New business is coming to Folsom.
May 4th, 2010
Our Fan Page on Facebook is now even easier to find! Become our fan:
Remember there's no apostrophe when you tell your family and friends.
May 3rd, 2010
I love breakfast. The only meal I love more than breakfast is brunch, so I'm always on the lookout for good places to get a great breakfast. Here's a list of my favorite five: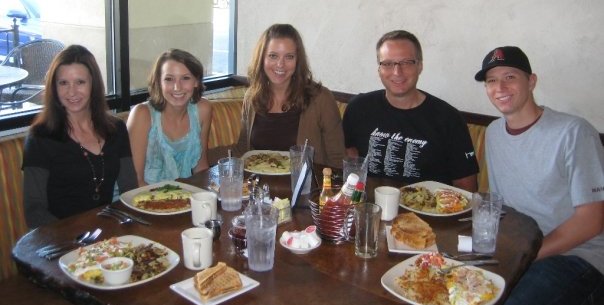 1. Karen's Bakery
705 Gold Lake Drive #340, Folsom, CA 95630
Breakfast Hours: M-F, 6-11am, Sat 7-noon
A Folsom staple, Karen's Bakery offers a huge selection of homemade baked goods and breakfasts. My recommendation is the Granola with Vanilla Yogurt and Fresh Berries, although it's hard to go wrong with much on the menu. Slightly pricy and certainly not a traditional breakfast (they only serve eggs scrambled), Karen's has a gourmet feel and plenty of charm. They even have great coffee and espresso drinks!
Quick Search
Categories
Community Resources