Become Our Fan
Archives
Archive for the 'Home Retention' Category
June 29th, 2010
Wednesday the U.S. Treasury Department announced its approval of the California Housing Finance Agency's (CalHFA) plan to use nearly $700 million in federal funding to develop programs to help homeowners struggling to meet their mortgage payments. The CalHFA will implement four programs to help Californians remain in their homes.
The following are brief summaries of the programs CalHFA will implement under the Keep Your Home Program:
April 13th, 2010
Yesterday, Governor Schwarzenegger signed into law a piece of legislation that will provide debt forgiveness to thousands of Californians. This measure provides tax relief on mortgage debt forgiven in a short sale, foreclosure, or loan modification. Prior to this bill, California homeowners were exempt from owing federal taxes on the forgiven mortgage debt, but still were required to pay California taxes as if the forgiven debt were income. This bill has become law just in time for people to take advantage of it before this Thursday's tax filing deadline.
April 11th, 2010
And finally…
Day 7: CONSIDER CURB APPEAL
Make the most of your home's appearance without breaking the bank. You can add value and appeal to your home with just a few simple ideas. While repainting your whole house may be out of the question, painting the door and retouching the trim can give your entire house a face lift.
April 10th, 2010
Day 6: DE-CLUTTER AND CREATE STORAGE
Old and historic houses are notorious for their lack of closet space. If you have cramped storage areas, add do-it-yourself wire and laminate closet systems to bedrooms, pantries and entry closets. Companies such as ClosetMaid allow you to measure and redesign your closets online. You can also get design details and parts for these systems at many large home-improvement stores, like Home Depot. Most closets can be updated in a weekend or less. In the end, your closets will be more functional while you're living in the house and will make your home look more customized to potential buyers if you ever decide to sell.
April 9th, 2010
Day 5: MAKE THE OLD LOOK NEW
New paint makes everything look clean and bright again and, thanks to "oops" paint, can be as affordable as a dollar a can. "Oops" paint is paint that was purchased and returned because it was the wrong color is available at both Home Depot and Lowes. If you don't find a color you like, return the next week for a completely different selection. Even painting the trim a contrasting color or creating a contrast wall can make a big impression with just a little effort and money.
April 8th, 2010
Day 4: LET THERE BE LIGHT
Changing the lighting in your home can both update and make your house appear bigger and more open.
Adding accent lighting and spotlights that plug into existing outlets can direct light to features you want to emphasize, like art or plants, while giving your home overall ambient light. If you have a ceiling fan, you can also buy replacement fan blades to update the fixture's look at a much more minimal cost than replacing the entire fixture.
April 7th, 2010
Day 3: UPDATE THE BATHROOM
Next to the kitchen, bathrooms are often the most important rooms to update. Simple things that are relatively easy to install, like a new toilet seat and a pedestal sink, can make a big difference.
Refinishing the cabinets can update a dated bathroom, as well as adding new hardware to the drawers and doors. A new sink faucet easily serves as a focal point that adds a more modern feel. Replacing old, dated light fixtures can be done relatively easily and can change the whole look of the bathroom.
April 6th, 2010
Day 2: MAKE A MEMORABLE ENTRANCE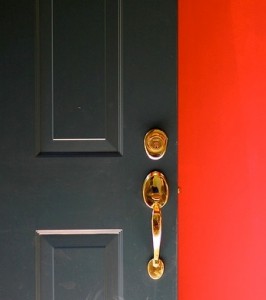 First impressions are important, especially when it comes to your home. Your entryway is the first thing you and your guests see when entering your home. With a little money and effort, you can spruce up your entrance and help your home make a great first impression!
The front door is the focal point of your entrance and can be inexpensively made to look new with a new coat of paint or easy refinish. Replacing the worn, flimsy knob with a more substantial (and secure) handle-and-lock set gives the entrance a polished feel.
April 5th, 2010
LITTLE details can make a BIG difference in the appearance and feel of your home.  When money is tight, you can still update your home with details that can make all the difference. Every day this week, we'll bring you a new idea on how to update your home for less. Join us for seven days of ideas to bring new life to your home!
Day 1: GET STARTED IN THE KITCHEN
For many, the kitchen is the heart of the home. Updating the hardware on your cabinets can modernize your kitchen while keeping costs down. For only a little more, a new, coordinating kitchen faucet set and new light fixtures can transform the look and feel of the entire kitchen.
March 19th, 2010
I ran across an article in the Sacramento Bee on Wednesday entitled "Years After Homeowners Default, Collectors May Still Come After Them." Needless to say, it caught my attention…and I wanted to bring it to yours.
It talks about the fact that many homeowners who are currently defaulting on their mortgages, may be surprised to learn that, years from now, they may still owe that money to someone…the debt collectors may come calling!
Quick Search
Categories
Community Resources