Become Our Fan
Archives
Staging your home well can be the difference between listing your home and selling it (for the best price possible!). If your home has been put on the market before and didn't sell, staging may be the answer.
Pamela is an Accredited Home Staging Specialist, giving her the skills necessary to help you sell your home faster and for the highest market value.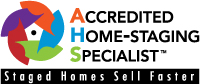 Contact Pamela today to discuss your options.
Quick Search
Categories
Community Resources