Become Our Fan
Archives
Archive for August, 2016
August 26th, 2016
The process of buying or selling a home can become overwhelming without a team of professionals to talk you off the ledge when you reach the point of exclaiming, "Let's call the whole thing off!" I'm fortunate to be surrounded by incredible professionals from lenders, escrow officers, accountants, attorneys, inspectors, handymen, contractors, electricians, plumbers, housecleaners, roofers, painters, landscapers, gardeners…florists, estheticians, hairdressers (let's be honest, sometimes we all need a little pampering!), etc..
I'm in the process of updating my website and will be focusing on the "business directory" over the next few weeks.  I'd love to hear from you if you'd like to be included in the new directory, or if you work with an individual or a company that you highly recommend. I'm always in search of new talent!
Speaking of tomatoes, you won't want to miss the 6th Annual Tomato Taste-Off. Head on over to the Historic Folsom Farmer's Market on Sutter Street in Folsom tomorrow morning from 8:00am-1:00pm for this FREE family event with games, prizes, hourly raffles, a scavenger hunt, salsa contest, and more!!!

August 19th, 2016
I think I may actually be a Gen Xer and NOT a Baby Boomer. My birthday falls so close to each! I recently read an article published by Inman News entitled 5 reasons Gen X moms are the best real estate agents.
"We often treat transactions like one of our children. We oversee all of the details. We make sure you are doing your part. We follow up with all of the players involved."
"When things blow up, you know what we don't do? We don't give up. We work harder, we look for a different angle, a different way to make a negotiation work. We get creative."
"We are used to solving problems so that our people come out on top where they belong. You don't mess with mama bears."
"We have experience, so those issues that might derail a deal with a less seasoned agent, we handle with ease."
 Those all describes me, right? I must be a Gen Xer! But then I read THIS… Read the rest of this entry »
August 10th, 2016
"The Final Five," as they've nicknamed themselves, flourished under the pressure to prove they're still the best in the world. Congratulations to USA's amazing gymnasts!!
Today, I find myself thankful for my "Final Five!" The five players most integral in THIS real estate transaction; the one in which I currently find myself representing the buyers AND there are multiple offers from several (FOUR) other very well qualified buyers who also love the home!! I just received word that the sellers have elected to accept my clients' offer and reject the others…not even a counter!!! I honestly couldn't have done this alone…it takes a village; in this case, a village of FIVE. (1) Mr. and (2) Mrs. Very-Well-Qualified, Smart, Proactive, Responsive Buyer (3) Mr. Very-Professional-Listing-Agent (4) Mr. Experienced-Proficient-Amazing-Lender and (5) Mrs. Selling-Agent, ME. Oh the pressure…gold medals all around!
August 5th, 2016

Today, Rio welcomes the world into their "home!" For the next 16 days, every Brazilian will celebrate their history, culture, and their importance in this world. Their hearts will swell each time their team enters the stadium or their national anthem is performed for the world.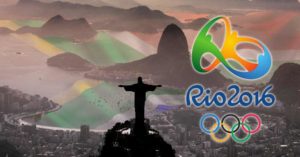 In a small way, that's the way I feel each time I welcome someone into my "home." Within the walls of my home there is much history, culture and importance. My husband and I have raised our family within those walls, we've welcomed grandchildren, we've housed people who needed shelter and love, we've entertained friends, we've laughed, we've cried, and we've loved. It is my desire that we'd all have a place to call "home;" a place that makes our hearts swell.
August 2nd, 2016
I just got back from New England…the place of my birth. It was so good to go "home" and visit with family and friends that I haven't seen in years. While I was there, I spent some time collecting flyers and looking at homes…because, that's what I do and what I love! I found myself romanticizing about actually living in one of these "Colonial" homes. My antiques would look amazing within their walls!!

One particular home caught my eye as I walked past it several times during my week-long stay. A 2615 square foot, 4 bedroom, 2 bath home on a 1.24 acre lot built in 1850 listed for $235,000. Yes, it really was built in 1850 and the listed price really is ONLY $235,000!!! With its white clapboard siding and black shutters, it drew me in…I imagined the stories that this old house would tell if walls could talk!!! As I read through the listing, I read words I hadn't seen in years; "post and beam construction," "stone foundation," "dug well," "leach field," "steam radiator," "oil and wood heat," and "off boiler water heater." Read the rest of this entry »
Quick Search
Categories
Community Resources