Day 2: MAKE A MEMORABLE ENTRANCE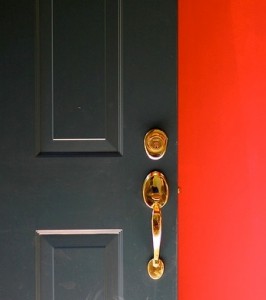 First impressions are important, especially when it comes to your home. Your entryway is the first thing you and your guests see when entering your home. With a little money and effort, you can spruce up your entrance and help your home make a great first impression!
The front door is the focal point of your entrance and can be inexpensively made to look new with a new coat of paint or easy refinish. Replacing the worn, flimsy knob with a more substantial (and secure) handle-and-lock set gives the entrance a polished feel.
Consider adding two large planters on either side of the door filled with plants of a variety of heights and textures. For a great year round look, mix perennials and  annuals. If you want to add another personal touch, hang a coordinating wreath on your front door.
Don't have a penny to spend? You'll be amazed how much of a difference an hour of cleaning can make to the look and feel of your entry area. Getting rid of winter's dirt and twig remainsdeclutters and brightens up your space to give it a more inviting feel.
Check Back Tomorrow for…
Day 1: GET STARTED IN THE KITCHEN
Day 2: MAKE A MEMORABLE ENTRANCE
Day 3: UPDATE THE BATHROOM
Day 4: LET THERE BE LIGHT
Day 5: MAKE THE OLD LOOK NEW
Day 6: DE-CLUTTER AND CREATE STORAGE
Day 7: CONSIDER CURB APPEAL