Become Our Fan
Archives
Archive for January, 2010
January 22nd, 2010
The much anticipated Historic Sutter Street Revitalization Project is finally here. Yes, that's right, after years of planning and dreaming, it's finally here! On January 12th, The Folsom City Council awarded an $8.4 million construction contract to Teichert Construction. The project is scheduled to begin in February and will be "substantially completed" before the 2010 holiday season.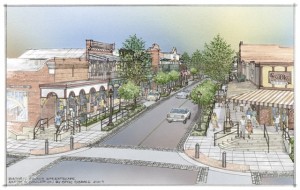 In typical Folsom style, we have the opportunity to celebrate TOGETHER…as a community – The Community Groundbreaking CELEBRATION will take place on Saturday, January 23rd at 10:00 a.m. on the corner of Sutter and Wool Streets, and I wouldn't miss it!
January 11th, 2010
I've been looking for an excuse to let you know that my daughter, Chelsey, is engaged and planning an August wedding!!! And this is the perfect excuse…Let's talk about staging.
I can stage a home practically blindfolded…it's all about making the most of space, color, and light! I can walk clients through the process of buying or selling the home of their dreams with ease, but planning a wedding is something entirely new to me! The last wedding I planned was my own…26 years ago, and quite honestly, my mother did most of the planning. So, I enlisted help…actually, my sister, enlisted some help for us.
January 8th, 2010
One of the benefits that I receive as a member of the Institute for Luxury Home Marketing is a sneak peak into "luxury trends." The information available regarding "Kitchen Trends in 2010" is so much fun that I wanted to share it with all of you…enjoy!
January 5th, 2010
This seems like a nonsensical question to ask, but it is one that must be considered when purchasing a home in California…and one of the many pieces of information the Buyer has access to through the disclosure process. Thanks to the Megan's Law website, the whereabouts of registered sex offenders is a matter of public record.
Quick Search
Categories
Community Resources