The much anticipated Historic Sutter Street Revitalization Project is finally here. Yes, that's right, after years of planning and dreaming, it's finally here! On January 12th, The Folsom City Council awarded an $8.4 million construction contract to Teichert Construction. The project is scheduled to begin in February and will be "substantially completed" before the 2010 holiday season.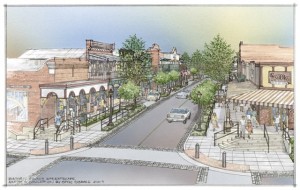 In typical Folsom style, we have the opportunity to celebrate TOGETHER…as a community – The Community Groundbreaking CELEBRATION will take place on Saturday, January 23rd at 10:00 a.m. on the corner of Sutter and Wool Streets, and I wouldn't miss it!
I'm looking forward to celebrating with the people who have worked so hard to bring this to fruition…
The Historic Folsom merchants who launched this "dream" several years ago and have patiently worked behind the scenes to keep the dream alive.
The City officials who have worked diligently to foster much needed change while continuing to preserve the unique character and historic nature of Folsom's Historic District.
The people I'm most looking forward to celebrating with, however, are
The many clients that I have had the privilege to represent over the years who call the Historic District, "home."
Having grown up in Massachusetts, I have a genuine love of "old houses" and have been fortunate to represent many like-minded clients over the years. Don't get me wrong, I enjoy the modern conveniences of the newer home; specifically the large closets, attached garages and indoor laundry rooms, but there's nothing quite like the charm of an older home! And for these lucky homeowners who live in these charming houses, their neighborhood is about to get even better…which I can't help but think will positively affect the value of their already spectacular properties!
This may be the perfect time to buy a home of your own in Folsom's Historic District as home prices are low, interest rates are also low, and the home buyer tax credit has been extended and expanded…Win, Win, Win!
See you Saturday…and bring your umbrellas; there's a chance of rain!