I love breakfast. The only meal I love more than breakfast is brunch, so I'm always on the lookout for good places to get a great breakfast. Here's a list of my favorite five: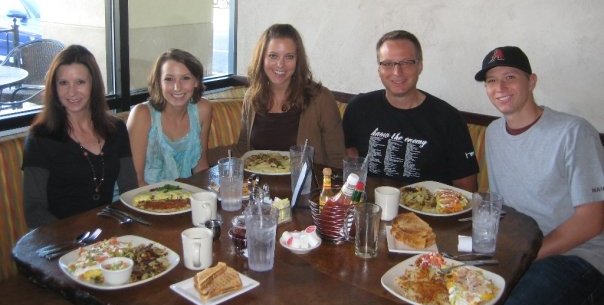 1. Karen's Bakery
705 Gold Lake Drive #340, Folsom, CA 95630
Breakfast Hours: M-F, 6-11am, Sat 7-noon
A Folsom staple, Karen's Bakery offers a huge selection of homemade baked goods and breakfasts. My recommendation is the Granola with Vanilla Yogurt and Fresh Berries, although it's hard to go wrong with much on the menu. Slightly pricy and certainly not a traditional breakfast (they only serve eggs scrambled), Karen's has a gourmet feel and plenty of charm. They even have great coffee and espresso drinks!
2. The Purple Place
363 Green Valley Road , El Dorado Hills, CA 95762
Breakfast Hours: 7-11am daily
Yes, I know this is technically in El Dorado Hills, but it so close (and delicious) that it makes the cut. Better known as a Biker Bar, The Purple Place has a café that serves a mean breakfast. I've heard raves about their Ooey Gooey Coffee Cake, but I prefer to stick to the basic eggs and toast (and occasional mimosa). The most traditional diner on the list, the staff is always friendly and the food is very reasonably priced.
3. Early Toast
25075 Blue Ravine Road, Folsom, CA 95630
Breakfast Hours: 7am-2pm daily
If you're looking for an international inspired breakfast (albeit, Americanized), look no further than Early Toast. They have a nice selection of crepes and Mexican inspired fare (the owner also owns Mexiquite) and is the only restaurant in Folsom where I order an omelet (Vegetable Omelet, sans Sour Cream). They have large portions and heavy food, so make sure you go hungry!
4. It's a Grind
2770 E. Bidwell Street and 189 Blue Ravine Road, Folsom, CA 95630
Breakfast Hours: M-F 6am-10pm, Sat-Sun 6:30a-10pm
I must admit, if there is anything that I find lacking at most breakfast places, it's the coffee. So when I want a great cup of coffee to go with my breakfast, I head over to It's A Grind. Surprising as it may seem, the Folsom locations have delicious homemade quiche, and I absolutely love their Vanilla Nut coffee. Comfy chairs and free Wi-Fi make this a surprising, but very worthy, breakfast choice.
5. Mary's Gold Miner Café
426 E. Bidwell Street, Folsom, CA 95630
Breakfast Hours: M-F 6am-2pm, Sat-Sun 6am-3pm
Gold Miner Café has all the basics and then some, my favorite being the Buckwheat Banana Pancakes. This place is kid-friendly and always packed. If you're looking for a traditional, small town diner, this is the place for you. It's a bit of a greasy spoon and a little more expensive than you'd expect, but it seems to be the place to see and be seen by Folsom residents. Christina Mendonza is a regular 🙂
Did I miss your favorite? Let me know where you like and why so I can check it out. Like I said, I'm always looking for a great breakfast.